Video Walls...
Digital and Electronic Displays of Any Size for Any Audience

Suited for large venues and events when you want a high quality visual display, a video wall is the best choice. Made from a number of LCD or LED screens that can be configured to any size, video walls are high definition digital displays that play a key part in attracting customers or entertaining an audience.

However, smaller businesses can find use for similar displays too – video walls can be configured to suit any need in terms of size. Touch screen technology can add an interactive display element to it as well, and, in art galleries and at showings, can be part of a piece that the viewer can interact with.

Stream a Range of Content

Although comprised of a multitude of screens, video walls can be designed to display one spread out image or a number of individual media streams. CCTV, IPTV, live television, web pages, pre-recorded video and RSS feeds containing text, news or weather updates can all be incorporated to a video wall display to deliver an enormous amount of information all at once.

With implementations possible for providing information in corporate situations and sales rooms, addressing students in school halls, attracting customers in retail and entertaining an audience at a public event, at Digital Signage Solutions, we can custom-design a video wall to suit nearly anywhere.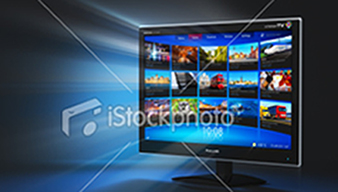 With the potential to create such large electronic displays, video walls are usually implemented in situations where the most people can see them,
These Include
Sports stadiums
Conference halls
Shopping malls
Corporate foyers
Control rooms
Event centres
Festivals

Digital Signage Solutions will help you create a video wall system that works for you. Contact us to discuss a project or learn how our digital electronic displays can help communicate your message in any situation and any industry.