Hospitals...
Create Efficiency in Your Healthcare Facility

With systems to inform, organise and entertain, Digital Signage Solutions can provide invaluable tools for your hospital or medical centre.

Digital displays can be used in waiting rooms in the form of IPTV systems providing news/entertainment as well as information and calls for patients on electronic signs when they are ready to be seen. Navigating different wards and departments becomes simple with touch screen directories, and similar technology can even be employed as a method of patient check-in.

One of the most important aspects of efficient healthcare services is communication; something that electronic display systems are fantastic at facilitating. Because all of the same content is being streamed to displays on-site in real time, every department is seeing the same information all at once.

Doctors can update a room's display from their office, see emergency messages sent from anywhere else in the facility and you can even install an internal scheduling and communications digital signage software system to create more efficiency in day-to-day operations.

Entertain and Keep Patients Up-to-Date

While hospitals aren't usually a fun place for patients and their families, IPTV and video-on-demand systems create new opportunities to entertain, educate and provide some form of relief during their stay.

Pay-per-view movies and television access is only the beginning of what in-room IPTV software allows – we can install systems with internet connections that give access to Facebook, YouTube and Twitter as well as video-on-demand services that let patients access pertinent information on their condition and videos to aid in recovery.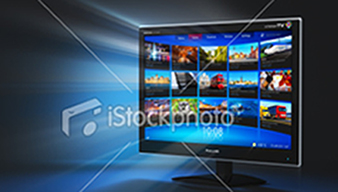 If you're thinking about making the move to become a more efficient hospital or care facility, contact us today and ask how Digital Signage Solutions can design the perfect system for you.
Care for Your Patients and Operate More Efficiently
Entertain and inform the waiting room with live TV and health message videos
Create in-room systems that display free-to-air TV, pay-per-view movies and even videos-on-demand that deal with managing conditions and other health specific issues
Allow patients access to websites and social media
Allow patients to record and playback their favourite television programmes