Retail...
Engage Your Customers with Digital Signage and Interactive Displays

Communicating and engaging with customers has never been more important than it is today with the competitive nature of retail. Technology has facilitated a huge change in expectations from customers who want results immediately. Electronic signage and video-on-demand systems can help you craft a professional image and improve in-store marketing.

Install a dynamic digital menu for your restaurant/cafe that can be updated by staff daily or catch your customer's eye with IPTV systems displaying the latest in-store offers. We give you the power of control - let individual store's program content and advertise daily deals or synchronise everything from head office at your discretion.

A Better Way to Connect

Forget ineffective posters and tacky sales signs - grab attention with digital displays and electronic signage for your advertisements and promotions. Touch screen kiosks can even give customers the power to purchase in a new way by letting them browse and order from electronic menus at your bar or design their own holiday in your travel agency.

Starting at a retail level gives you plenty of room to move - expand from in-store marketing to electronic billboards and displays in public and synchronise communications with your corporate office.

Digital Signage Solutions gives you more freedom with your in-store marketing, letting you target customers effectively and allowing you complete control over the message that you are putting out.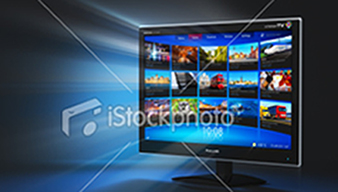 Stay ahead of the competition and talk to us about implementing a digital solution in your store.
Dynamic Advertising and Promotion Within Your Store Will
Air your latest commercial in-store through a media box or IPTV setup
Update information and pricing quickly and efficiently
Use digital display systems to cut out the middleman and stop relying on printed media
Attract attention through fully customisable in-store promotions like lunchtime specials or daily deals
Run high definition video of your products and services