Hospitality...
Offer Your GuestsSomething New

Anyone who has worked in hospitality knows how important communication is at every level. Providing your guests with the best experience possible is crucial to running a successful business.

Digital signage and IPTV systems can give your facilities new functionality as well as providing guests with a more fluid and efficient experience during a stay with you.

Electronic signage lets you add value to your conference facilities. Welcome groups with personalised digital displays and provide screens for them to utilise during their presentation, talk or event.

Wedding parties and family gatherings will enjoy being able to make use of the systems to display photographs and home video during their stay as well. Information is easy to update and can be done so from the front desk upon check-in.

IPTV software can be installed to display other content onscreen when not in use like activities and events that your hotel or motel is running, weather forecasts and local news. You can also integrate health and safety information like emergency exit locations and fire alarms into your digital displays.

Rooms can be outfitted with video-on-demand services that guests can use to access a variety of entertainment and the digital displays installed can stream announcements, hotel news and other important messages – all updated from the front desk.

Less Stress for Your Staff

Give staff the information they need to operate more effectively - messages can be sent all around your hotel in real time.

Electronic display systems relay important data like guest arrivals and room occupancy as soon as there is a check in, meaning there's less moving around required for employees to be informed and faster response times.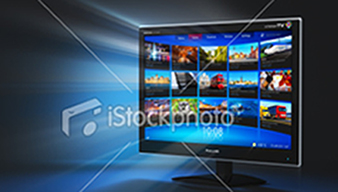 Touch screen kiosks at the front lobby can act as an electronic concierge system – software allows guests to access all sorts of information on nearby businesses, public transport and taxi companies, directions to local attractions as well as information on the services that you provide. Offering innovative services is an important part of differentiating yourself from the competition.

Creating a unique experience and adding something functional, new and interesting to your facilities like digital display and IPTV systems can bring incredible value.
Run a Modern Hotel or Lodge With the Latest in Digital Display and IPTV Technology
Create an in-room viewing experience that guests will enjoy with video-on-demand and IPTV
Display conference details, event specific media like wedding photos and even create a virtual concierge system with digital electronic displays
Utilise an advanced billing system through hotel PMS software that allows guests to make purchases around your hotel and facilities that are billed directly to their room



Contact us at Digital Signage Solutions and let us help you create a system that works for your guests.