Create...
Create Your Own Experience with IPTV, Video-on-Demand and Media Portals

Innovative new ideas are key to success in every industry – we want you to be giving your clients, guests and users something unique every time they choose to interact with you.

At Digital Signage Solutions, we won't just set you up with the latest in digital display and electronic billboard technology, we will help you to create your own experience at your hotel, store or corporate office.

Design Your Digital Display to Suit Your Audience
Create a television system that is easy to manage and packed with content like high definition video and Internet applications; let the team at Digital Signage Solutions install the latest in IPTV technology for you.

Forget complex and expensive coax networks and move to a digital system that's easy to manage with an incredible set of features. Browse social media, websites and enjoy crystal clear digital television.

Video-on-Demand systems give power to your users, letting them choose the content that they want to see. For hotel rooms and patients in hospitals or medical facilities, having control over what's on with a VOD setup is a huge plus.

Create even more ways to engage through media portals, combining Internet and VOD with digital signage and portable devices. Make restaurant bookings, view live television and browse the web all on the same device; your media portal can be designed specifically for your business or school.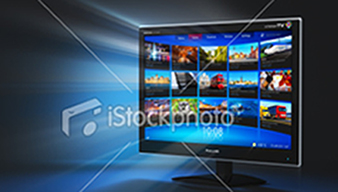 We can help you:
Create a lasting advertisement of your products or services with Digital Signage
Create a world beyond Television with IPTV
Create your own in-room Hollywood experience with Video on Demand
Create a world of rich media interaction with Digital Signage Solutions Media Portals



Talk to us at Digital Signage Solutions about creating the perfect system that works for you and your clients.

Engage your audience in brand new ways with IPTV, VOD, media portals and electronic signage and advertise more effectively with solutions that are tailored to your needs.