Video On Demand...
Now that broadband technology is so readily available, people are increasingly turning to "on demand" streaming of content as a way to view television when it suits them. Unfortunately for businesses providing this service through traditional methods, it is becoming inordinately expensive. And more difficult to implement and manage. Clients today demand a multi-purpose platform which can deliver a variety of content and associated information easily, and cost effectively.

Irrespective of the movie format, Digital Signage Solutions can cater and deliver streaming video all on a single platform. It doesn't matter if one person or a hundred are watching the same movie, our technology can cope. We offer a unique media streaming solution through Real Time Streaming Protocol (RTSP).

In the past watching live video has been a frustrating experience for many, with buffering often stopping then starting the live streaming and interfering with viewing pleasure. Because RTSP shows material in real time without quality compromise, there's a smooth delivery and viewing pleasure is guaranteed.

It's as good as you get watching movies online without going to the cinema. And for the client, managing the system couldn't be easier, since it employs a user friendly web browser.

One of the many benefits of our software means new system features can be added without changing hardware. Storage can easily be increased and it can run additional services and applications such as IPTV and digital signage. And our video on demand easily integrates with existing storage solutions.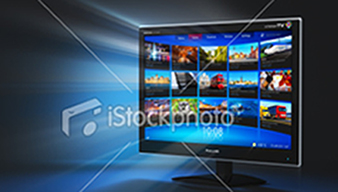 DSS movie streaming system can cater for "pay per view" films with the unique feature being able to pause your online video and come back into it at the same point rather than starting all over at the beginning.

Quite simply our video on demand package which incorporates High Definition can't be beaten for flexibility and function. To find out more contact us today.
Video On Demand
Capacity to support up to 80 concurrent video streams on demand from a single VOD unit
Includes a Hollywood studio-approved content encryption option
Range of available content providers and movie package options
Video billing and reporting options available including integration into Hotel/Motel PMS system