Multimedia Portals...
These days it isn't enough to simply offer your hotel guests video on demand and every TV channel available. Guests want an interactive display experience where they can book spa treatments, make dinner reservations and check the weather, all using the TV remote or personal mobile device.

That's where our clever hospitality portal comes in. It provides a set of processes and tools which allow users to easily manage and interact with their video media content. And guests don't even have to be in their hotel room to take advantage of these corporate portals. They can access and interact through touchscreen kiosks located in common areas such as lobbies.

This same multimedia portal concept can be expanded into an education media portal, where students can interact with and manage their own content wirelessly using smart phones, tablets and laptops. This technology can significantly improve the learning process by making it easier for students to gain access to research materials and to organise and share their work. Students can even use it to run their own TV channel with full editing capability.

Corporate portals can benefit organisations such as banks greatly from interactive kiosks. Customers are able to access and view information such as community, sponsorship and charity work. Corporates can also use the technology to stream breaking news or display dynamic information such as share prices.

Interactive portals or commonly referred to as "touch screens" can also be of great benefit to hospitals where patients can "touch, experience and discover" services they need. It can show them where there are free parking spaces and help direct them to the departments they require.

Healthy living videos can also be streamed onto the system. Patients and visitors could deliver feedback on the quality of service. It's an excellent low-cost way of discovering how effective your business or service is and how you can improve it.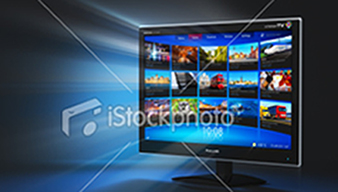 Retail environments such as shopping malls, large department stores can also benefit from our information kiosk directing customers to the department they are looking for. At the same time digital signage can be displayed on the same Internet kiosk advertising current specials or streaming live the stores current television advertisement.

Get in touch with us today for more information on how we can help you.
Multimedia Portals
Create and design media portals for easy navigation to products and services such as television, videos, Internet, local advertising and corporate sponsorships. Even allows users interactivity like the ability to make restaurant reservations
Ensure your branding is at the forefront of the services you provide
Customise media portals for schools, allowing students to bookmark video and stream live content to their laptops and or portable devices