Display...
The Most Advanced Digital Display Solutions

Digital Signage Solutions has the answer for your digital display needs however big or small they might be. We offer electronic signage solutions that are both robust and reliable and can install displays that can be used inside or outside. From commercial signage panels in retail stores and corporate offices to giant stadium-size video walls, the team at Digital Signage Solutions has an answer for every project.

Think of how far billboards have come since the paintings on the sides of Victorian buildings. Now cutting edge, high definition digital displays show promotional films, stream information like breaking news, weather and stock tickers in real time and even live TV.

You can create new interactivity through touch screen displays and customise every aspect of content through a media box setup. Electronic signage is being embraced by all tech-savvy industries and organisations because of its flexibility and unparalleled ability to communicate information.

Effective and Engaging Advertising Technologies

Nielsen Research reveals that the latest digital advertising technologies lead to more than 237 million monthly exposures to adults 18 or over in 2009 in the US.

It is by far the most effective way to reach your audience, whether they are students, hotel guests, hospital employees or public transport users.

You want to know that the technology you're using is reliable and that you have a technical support team who will keep your electronic digital signage fully functional. Digital Signage Solutions is a company with a proven track record in the industry.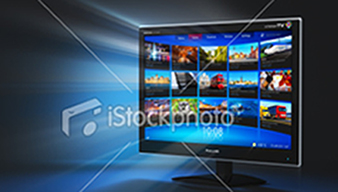 We are not just experts in commercial audiovisual installation; we are IT specialists as well. Some companies might get your digital display up and running, but at Digital Signage Solutions we offer a complete package coupled with technical support services to give you peace of mind. Contact us to find out more on how we can help you.
Digital Signage can provide you with:
Commercial signage panels from 19" to 65" Plasma, LCD/LED, and made to order LED panels
Display panel enclosures suitable for both indoor and outdoor applications
Touch screen overlays or integrated touch screens with single or multi touch capability
Media boxes with external control capabilities (i.e., lighting & sound), wireless ready, and interactive options including push buttons and motion sensors
High quality video wall systems