Content...
There are two important things you need to consider with your content. The way it's distributed and the format that it's presented in. Getting this right is vital in getting your message across in your digital signage.

There are several ways to distribute your content from simply updating a storage device for a media player to making a global change at a server, which will then be accessible on hundreds of display screens. Our intuitive software makes managing content of large numbers of screens easy by providing you with all the information you need at a glance.

Adding content to your signage can be frustrating if you need to convert files to suit a particular software program There's no such problem when you deal with Digital Signage Solutions because we support an extensive range of formats which makes creating your "eye catching signage solution" simple.

There are three distinctive categories of content which make digital signage such an effective form of communication. Text ranging fromf static or scrolling messages to the impressive Really Simple Syndication (RSS) feeds used to publish frequently updated material such as "breaking news". Images are also a powerful way to promote your product or services. You may prefer to create your message in powerpoint, which DSS can easily add to your content.

Video content is perhaps the most spectacular weapon in your content armoury. It can take the form of streaming or static video files, or live TV. If you create a news channel on your sign, it's a guaranteed attention grabber for your consumer.

And with digital signage you can schedule text, images and video to play when you want for however long you want to best capture your audience's attention.
At DSS we support most content types and a range of video formats.

We give you the flexibility to decide which template and content categories you want to display so that your unique message is powerfully displayed using text images and videos.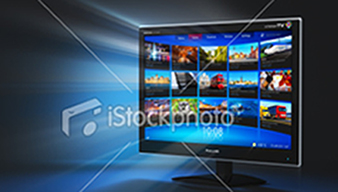 Contact us today so we can show you how easy it is to move your signage into the twenty first century.


Look at all the clever content options we can offer:
Playlist creation, scheduling and zone control of content
Configurate and send different screen layouts to a group of devices e.g. live TV video to some screens and a mixture of live TV video and tickertape to others
end different playlists and content to individual or multiple devices, groups of devices, locations and regions within a complex
Support for different user profiles e.g. scheduler, content management, organisational manager
Support for the display of live data feeds e.g. weather, travel information
Ability to run locally-relevant promotional offers through the display
Display and manage multiple content types e.g. text, tickertape, images, live video, stored video
Broadcast of local information or live video feeds