Corporate...
Improve Your Workspace with IPTV and Electronic Displays

Imagine a building foyer that welcomes and informs guests with a touch screen directory display while IPTV streams live-updated company news to your reception area where visitors are greeted by electronic digital signage. Digital Signage Solutions can help create a professional and inviting workplace with technology that speaks to both employees and clients.

Having easy access to information can have a significant effect on any corporate environment. Electronic displays in the sales office allow you to track figures like targets and share prices in real time and our IPTV software gives you the ability to update content delivered to different departments and even branches as you see fit.

Electronic signage can help deliver all sorts of internal information; from health and safety to the latest company updates through display systems controlled by head office.

In industries like journalism and broadcasting, efficient communication is key. With Digital Signage Solutions, you can stream live news through IPTV or add a touch screen interface to make and review bookings for studios and other facilities.

Expanding Your Reach

Outside of the office, corporate digital signage can be used to advertise and promote your brand and sponsors. Touch screen kiosks and interactive displays at events and expos are a fantastic addition to demonstrations that will really set you apart from the rest.

See more ways that digital display technology can be used to advertise in public or how you can link your offices and retail storefronts through our electronic signage solutions and take advantage of the latest technology to get your message across.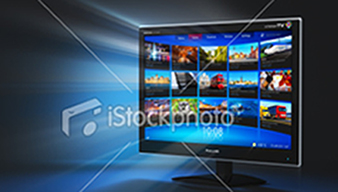 Advanced Digital Solutions for the Modern Workplace
Promote your mission statement, company values and corporate responsibilities
Promote your company's products and services
Communicate community involvement and sponsorships
Track emerging trends and keep employees informed through the use of live TV, news and Internet streams on share and commodity values
Display sales targets and current figures to your sales team and across your corporate network


Digital Signage Solutions can provide a complete system, tailor-made to your needs, which includes IPTV, electronic signage and video-on-demand as you require.

Talk to us today about the advantages of adding a digital element to your business.