Touch Screens...
Interact Through Your Electronic Digital Display Like Never Before

What was once a clunky and unresponsive foreshadowing of future-tech has become a staple among small electronics and mobile phones; touch screens are the new norm of interactivity – why wouldn't you want to use them to better engage your audience?

In high traffic areas, touch screens are a fantastic way to make people stop, pay attention and are a method of engaging customers one-on-one to inform, advertise or even entertain. Easy-to-use and incredibly difficult to pass by, touch screens are the ultimate eye-catcher.

How Touch Screen Displays Work

Touch screen kiosks can be constructed in two ways: touch sensitive overlays can be installed within a commercial signage panel to add new functionality to an electronic display or they can be installed as an application on a PC attached to a digital display device.

Attaching a touch screen overlay panel to a display screen allows the user to trigger signals upon contact.

An infrared light is omitted over a plane across the surface of the screen that detects touch through either an active, infrared LED or a passive, reflective surface system. Two optical sensors track the movement of any object pressed against this surface and report the information back to a printed circuit controller signal board.

The system's software triangulates the position of the object in contact with the screen, follows it and responds to its movement.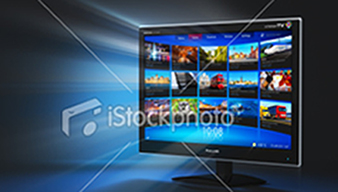 Advanced Connectivity to a Range of Digital Display Devices

The touch screen display systems at Digital Signage Solutions support interactivity visa GPIO, USB and serial ports for buttons, lighting, UDP devices and controllers. Enable your audience to interact with your electronic display directly and engage more people with a touch screen kiosk or digital display system in your store, hotel, corporate office or out in public at your next event.

Digital Signage Solutions can implement touch screen solutions for your business to meet almost any need.

Common applications include
Touch screen kiosks for check-in at airports
Digital concierge services in hotel lobbies
Information and directory points in museums and galleries

Contact the team at Digital Signage Solutions about your needs and see if a touch screen display is a good fit for your system or idea.