Education...
Interact with Students and Staff on Campus

In an environment where there are so many people working on so many different tasks, it can be incredibly difficult to communicate and share information with everybody.

School digital signage and IPTV systems give you the ability to interact with students and faculty anywhere on campus – with the right implementation you can take care of everything from daily notices to class changes and department-specific news.

Digital signage software gives you complete control over the information being put out. We can design systems that are split up and zoned to ensure that you are delivering the right message to the right people. Have content for faculty sent to staffrooms and teacher-only areas while electronic signage in public areas addresses students and guests.

This freedom to quickly and effectively update information allows a variety of uses. Target messages to individual classrooms and students, update the digital display outside the auditorium with details of an upcoming performance, deliver the latest words from the Principal to electronic signs around campus and stream news coverage, high profile events like the Olympics or school television through IPTV systems installed in congregation areas like the cafeteria or hall.

If your school still relies on hand delivered notices or intranet-based messaging, it is time to upgrade to a Digital Signage Solutions system.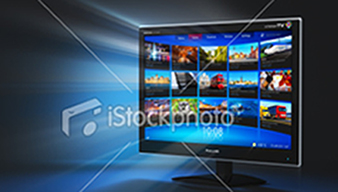 Bring your school into the future and create a more efficient campus by opening new channels of communication that allow information to flow freely.
Open New Channels of Communication in Your School Through Digital Electronic Signage
Communicate messages and information across the whole campus quickly and easily. Display daily notices, class changes and even department specific news through digital display software
Keep students and parents informed on upcoming events, and success in sports and academics
Create and broadcast a Student TV channel
Share information to relevant members of staff and specific departments with zone-controlled display systems



Tell us what your school needs and let us design a custom system to suit.