Video Editing...
Video plays a crucial role in effective digital signage. Our technology can retrieve and play a documentary for students in high definition (HD), play a company's catchy TV commercial or show a company's corporate video in a reception area so their clients understand its, social and environmental values.

There are two distinct types of video; educational and commercial. With a wide range of educational institutions comes a wide range of video formats. By using our content conversion feature, our users are able to upload DVDs and VHS tapes onto a central system then make them available online to a large number of users.

We give you the ability to bookmark a particular section of a video, making it easier to locate and play content. Bookmarks can be emailed to the targeted audience enabling them to watch at their leisure.

Perhaps users need to combine various video clips, or shorten existing files to create a new video file. That's no problem for Digital Signage Solutions. Using our web based editor this task can be performed within minutes and you do not have to be a technogeek to achieve a professional result.

Commercial Video (movies) are widely used in the hospitality sector. These days hotel guests expect to be able to choose which blockbuster movie they would like to watch, and when from the comfort of their room or even on a mobile device. With our digital solutions, guests can pause a film and return to it later at the same point, which turns frustration into satisfaction. And each viewing session is recorded making billing straightforward.

And on the DSS system, all movies are encrypted so the supplier's copyright is protected.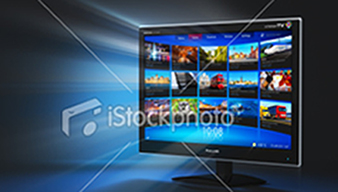 To find out more about Video Editing contact us today.


Digital Signage Solutions gives you the ability to edit and compile your own video clips:
Streams standards based MPEG-2 and MPEG-4 content
Includes a Hollywood studio-approved content encryption option
Integrates into existing storage solutions such as storage access networks (SAN) and network attached (NAS) devices
Has the capacity to support up to 80 concurrent video streams on demand from a single unit
Live video capture through mobile recording or network based video recording