Public...
Stand Out in the Crowd

Advertising is everywhere and everyone is looking for the best way to get a message across for their audience to see. It's hard to find a street unpolluted by static advertising like billboards and posters: there are so many clamoring for attention that most people walk right by them.

While it's becoming harder and harder to get your point across amongst the mess of advertising that surrounds us, technology like digital display billboards and commercial signage panels make it a lot easier to catch the eye and draw attention.

Our digital signage and IPTV systems are the perfect fit for sports stadiums, theatres, train stations and bus stations where you want to reach a large number of people with your own advertising or that of a sponsor.

Digital displays are great for smaller numbers, and when you're seating thousands a commercial signage panel installation, like those in Times Square, can be customised to be seen from almost any distance.

When you're looking to engage a smaller audience, interactive touch screen displays and IPTV systems are ideal. Museums, libraries and art galleries can educate and inform with ease through a range of digital signage options, creating a new experience for guests.

Communicate your message clearly and be seen amongst the crowd with Digital Signage Solutions.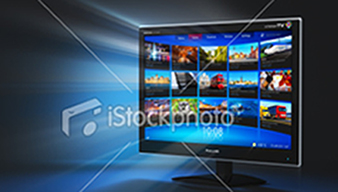 Ask us how we can setup the perfect electronic signage system to advertise your company, products or brand.
Make Your Message Seen
Display time critical information to the public
Integrate health and safety, emergency warnings and exit information with your digital displays
Provide a platform for corporate manufacturers wishing to target a high volume of consumer traffic with their products and services
Use integrated signage solutions in shopping malls, allowing retailers to update in-store content and share advertising space in public areas