Interactive Displays...
Our interactive displays bring your clients even closer to your products and services. Within fingertip distance. Many companies use kiosk to indicate where services are located within a building. But you can give your clients access to far more information with touch screen technology.

Whether it's a hotel lobby or a cruise liner reception desk, interactive displays give clients the ability to quickly access the information they need. Do they need to know where the restaurant is? Perhaps they want to watch a video of a local tourist attraction? A huge range of information in a variety of formats can be available at the touch of a screen.

And when the interactive display isn't being used by a client, it can default to other information. Perhaps you want your customer base to know what your current specials are, or which are your most popular products. Interactive screens are a powerful tool for engaging your audience, increasing sales and customer awareness.

The latest interactive technology is super smart. It can use facial recognition (biometrics) or even information on product security tags to display client specific information. Imagine your customer lifts a jacket off a rail

Your interactive screen picks up the security tag information and displays similar products the customer may like.

Or a biometrics alert might pick up a shopper using a cellphone, prompting the screen to play an ad for a mobile provider.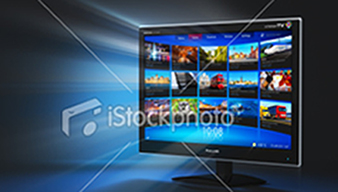 Imagine being able to identify your client's needs and reach them without even having a conversation. This is revolutionary technology. And here at Digital Signage Solutions, we can make it happen for you. Get in touch with us today.

Interactive Displays:
Create interactive playlists incorporating buttons, levers and even motion sensors
Control external devices to enhance the user experience such as lighting, sound, projectors and display screens
Use a variety of technologies to manage your interactive display such as RS-232 serial interactivity, GPIO interactivity and Touch Screen interactivity